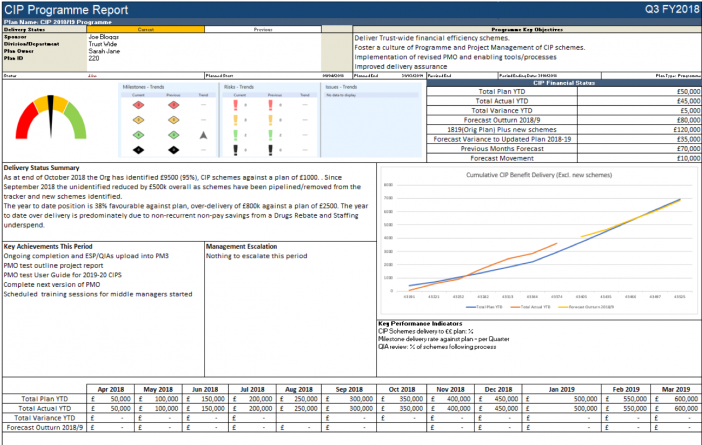 click above to enlarge 🔍
Control and Monitor your NHS CIP savings using PM3

We all know the pressures that the NHS is under with an ageing population and an increasing cost for health provision.  The NHS has to achieve value for money and the best quality for patients. Many NHS Trusts are embarking on Cost Improvement Programmes (CIP) to reduce cost. An NHS  CIP is the identification of schemes to increase efficiency/ or reduce expenditure. CIPs can include both recurrent (year on year) and non-recurrent (one-off) savings. A CIP is not simply a scheme that saves money as there must not be a detrimental impact on patients
It is important that savings and improvements are tracked and monitored on a regular basis. This means having the right toolset and processes that efficiently tracks savings and benefits at project, programme and portfolio level.
Since 2006 Bestoutcome has been working with the NHS, and its toolset PM3 is used to successfully manage CIP initiatives and Quality Impact Assessments (QIA).
PM3 allows early intervention on failing CIP projects and automates the production of CIP reports like the one on the left here.
PM3 can automatically upload your savings data from Excel directly into PM3.
To find out more about PM3 visit our dedicated NHS PMO page or Book a Demo.