Time tracking software; what you need to know to make it work in your organisation
by David Walton (No Comments )

I admit that time tracking software is not the most riveting of topics, but time tracking software is an important system that helps with project costing, forecasting, control of contractors and even prevention of timesheet fraud. So, if you have decided that you need to upgrade from Excel timesheets or need new timesheet tracking software, you google timetracking and thousands of results are returned.
The first entries are adverts which are predominately from US based companies. One word of caution here; as we are still in the EU – at least for another 2 years -, your time tracking software must adhere to EU data protection guidelines. Personal data that is stored outside the EU is unlikely to meet EU data protection rules so be careful of foreign based time tracking software.
I will declare my interest here – we at Bestoutcome develop and market pm3time, our cloud based time tracking software. The rest of this blog describes the 3 important things that you need to consider when selecting time tracking software.
Simple for Users to Enter Timesheet Data
Having worked at many clients who use time-tracking software, there is a common problem. At the end of the period, usually a week, there are a number of timesheets that have not been completed or approved. This usually results in the PMO chasing missing or incomplete timesheets. There are a number of ways or incentives that you can try and use to get the timesheets filled in on time. The best way is to have a timesheet that is simple and easy to fill in. May seem obvious but there are a lot of timesheets that are clunky and hard to use.
There are a number of different types of timesheet user, e.g: a maintenance contractor, an IT project manager. My guidance here is for the 'professional' timesheet user, e.g. project teams. I realise that 'easy to use' is partly subjective, but in my opinion, based on decades of filling in both paper and web timesheets, there are a number of ways that timesheet systems can make it easy for people to fill in, i.e:
Users can select only those projects and tasks that they are allowed to book time against. This eliminates the problem of wrongly coded timesheets or incomplete timesheets.
Timesheets are displayed In project / row format (see below) rather than the calendar format which may look attractive to the eye but is a lot more clunky to use.
For a new week's timesheet, it is good to have the ability to press a button and all the project tasks from previous weeks is displayed. The majority of professional timesheet users will be entering data on the same projects for a number of weeks. Having a facility to populate a timesheet from the previous week makes life easier.
Project teams tend to be busy people and sometimes genuinely forget to complete a timesheet. Some timesheet systems, including our pm3time application, have a facility whereby users are reminded via email to fill in their timesheet.
Below, is a screen shot from pm3time that shows project data in rows and the button to populate this week's timesheet from last week's projects. As you can see the timesheet is in rows not calendar form.

Simple for Administrators
Not only must a timesheet system be simple for users to enter their time, it must also be easy to administrate, e.g.: add users, projects, tasks etc.
If you have a large number of timesheet users and you need to capture both time and rates then this is often done individually, i.e. for each person. A much easier way is to have a role or resource group, e.g. project manager, business analyst and have standard rates for each role. If you then add a person to a role or resource group, you do not need to add individual rates as this person inherits the rates from the role. This not only makes life easy for the administrator but also reduces errors in rate cards.
Below is an example screenshot from pm3time showing resource groups.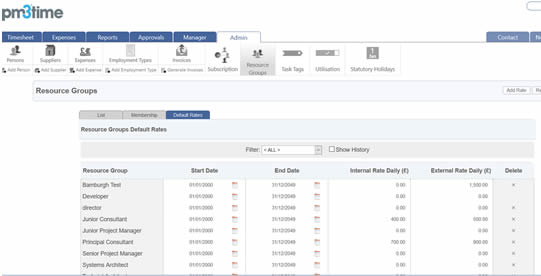 Simple Reporting
There is no point in just entering data. You need to extract and report easily. Reports need to be able to be exported to excel as a minimum but other formats are also important as you will almost certainly want to manipulate the data.
Filters are important. Below is an example of a pm3time report showing all the available filters.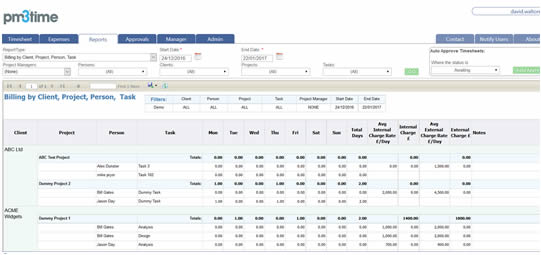 Summary
Timesheets may be seen as boring but they are usually very important for project costing, forecasting, contractor payment and time tracking.
There is a plethora of tools in the market and, although each organization will have its own particular requirements, make sure you select one that is easy to use for Administrators, Users and for reporting. It will save you a lot of time if you don't have to chase users for incomplete and / or inaccurate timesheets.
For more information on our time tracking software, please visit our PM3time page or email: info@bestoutcome.com
Discover PM3
'The PMO Tool designed by Practitioners for Practitioners'