PMO news and resource centre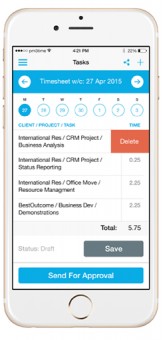 PM3time; the UK timesheet software that speaks to Xero
Does your timesheet software speak to Xero?
It won't be the most exciting subject your team discusses this year.
In fact, it's only a subject that should come up when something has either gone wrong or isn't working properly.
Yet as the world of work becomes increasingly complex, and that shows no sign of stopping, many tools and systems employed in the past are no longer fit for purpose.
As project scopes grow; consultants, freelancers and external teams join multiple stakeholders to collaborate across departments.
Technology allows teams to spread out across the UK, work habits change, and tracking and billing time, cross-charging time to other departments and controlling costs all become increasingly difficult.
There's no doubt that work is becoming more complex. Which brings us to the one thing we all crave; simplicity.
PM3time interface to Xero
The drive for simplicity sits behind the work we have been doing on our latest release of pm3time – our online timesheet tool.
It was by seeking to simplify tasks for our users that we realised we had to create a function that allowed our software to speak with Xero, the world's most widely used accounting software.
Xero has developed award-winning cloud-based accounting software for small and medium-sized business. It is by far the most popular accounting platform in the UK.
Invoicing – simplified to focus on exports to Xero
Virtually all users of pm3time already had financial systems which specialise in invoicing and billing and which they already use as a core part of the business.
We took the decision to remove the invoicing and billing forms from pm3time and concentrate on providing export files to Xero, the market leader (in future, we'll be offering additional formats such as Sage).
The exports are designed for immediate import into Xero. However, they are also editable Excel files which can be manually modified for loading into other Financial systems.
The 3 new exports are Billing Expenses, supplier expenses you must pay; Billing Time, supplier billed time you must pay; and, Sales Time + Expenses, billed time and expenses for which you invoice which your Customers must pay.
This allows you to run invoices in Xero from time tracked and approved in pm3time.
Simplifying the UX
Simplicity of UX (user experience) is one of the most important aspects of any platform. However, with something like timesheet software, which can face stiff resistance from certain members of the team – simplicity is the key to making it work.
Some studies show that 1 in 5 staff waste as much as a third of their day, so the gains that an organisation can realise with some simple timesheet analysis are huge.
There's no doubt that timesheets drive profitability and efficiency. But many organisations still cling to the idea that timesheets can be culturally unacceptable.
In this challenging sphere, the simpler the better!
We worked with a team of UX experts to make some core user interface improvements. This included, simplifying admin pages, placing main buttons at front and centre of the design – essentially making the entire process seamless and intuitive.
Chasing Facilities
We've also created 3 new automatic chase mechanisms to make it even easier to administer.
As an Admin, you can now remind users to submit their timesheets prior to week end; remind users who are late submitting their timesheets; and finally, remind approvers who are late approving the timesheets they've received.
Managing Annual Leave
Annual leave was another area we identified where we could help managers by incorporating functionality into PM3time.
We've made it possible for staff and contractors to log requests for annual leave, request approval and to generate reports for your own annual leave (if you are a standard user) or for your teams (if you are a project manager). As an Admin you can even do it for the whole company.
The new face of PM3time
These are just some of the changes we are excited to talk about. We've also rolled out several smaller changes that we won't go into detail on this blog.
As a UK based GDPR compliant timesheet tool that's available in both Android Play and Apple's App Store we believe we have crated a range of solutions that should simplify and streamline processes for your organisation.
We believe that if you take a look at PM3time you'll be impressed by the benefits is can offer.
Simply click on this link to Book a Demo or take a Free 30 Day trial.
About the author

David Walton - I am David Walton, Programme, Project and Portfolio Management specialist and director of Bestoutcome here in the UK. We make the PMO tools PM3, PM3time and PM3NHS, the only PMO tools designed by practitioners for practitioners.