Here's what some of our clients have said…
"PM3Cloud is easier to access on a wider range of devices and aesthetics are vastly improved. The capability of the system is adaptable, customisable and user-friendly for a wide range of our staff to use."

Emily Timms
The functionality of PM3 Cloud has been greatly improved, creating a welcoming suite of project management, which engages all users. The cloud systems creates meaningful and detailed reports freeing up time to fully understand delivery gaps. A real game changer.

Darren Peall Head of PMO (East Surrey CCG)
"Well thought-out interface, I can quickly find the information I need"

Gordon Maxwell (Head of Delivery, Willmott Dixon)
PM3Cloud is here!
PM3 has been redeveloped on to a 100% Cloud based platform. No software is required on the desktop. To access PM3Cloud you only need a tablet, PC, internet connection and a browser.
"We redeveloped PM3 as we wanted to take advantage of up to date development technologies. Many of our clients were looking to move all their applications to the cloud. In porting PM3 to the Cloud platform, Bestoutcome did not just port 'as is' but also improved functionality.
Our philosophy was to deliver PM3 in a more modular format where users can only see screens that are relevant. This will improve product adoption."
David Walton, Managing Director, Bestoutcome
100% cloud SaaS PPM tool
Executive portal – drill down into plans and reports
Optimised for Ipads and other tablets
Datamart lets you extract information and build your own datamart
Simple intuitive interface
Fast and responsive
Improved functionality
Link benefit plans to delivery milestones
Executive portal – drill down into plans and reports
Start small and add functionality as you need it
Modular design
Benefits of PM3Cloud
Optimised for iPads and other tablets

Link benefit plans to delivery milestones
Simple Interface
PM3 has been re-engineered so it is now a 100% cloud based. The user interface and user journeys have been redesigned so it is even simpler to use. PM3 screens can be switched on or off for different sets of users. This means that users are not overwhelmed by an array of tabs and organisations can start with a few screens and then add more screens as their maturity grows.
We have re-designed the product architecture and PM3Cloud has been optimized for iPads and other tablets.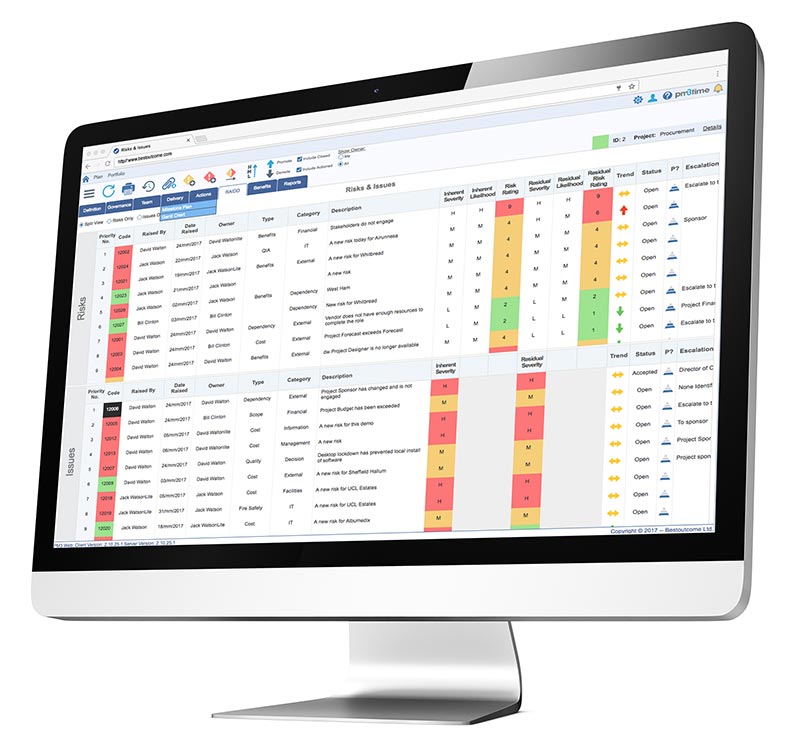 New Benefits Module
We have worked with our clients to develop a comprehensive benefits management module. Benefits can now be linked to milestones so that if a milestone that contributes to a benefit is delayed, PM3 flags the benefit plan as being at risk. Benefits can also have many attributes including: probability, recurring, beneficiary etc. click here for more information on benefits management.
New RAIDD Log
PM3Cloud now has a risk, issue, assumptions, Decisions and Dependency logs.
New Executive Portal
Executives can now access the PM3Cloud Executive Portal using an Ipad or other tablet device. This interface cannot be simpler. Executives can search for any plan or portfolio and run a number of 'favourited' reports.