Bestoutcome announce the launch of PM3 Cloud (PPM Tool) including an enhanced Benefits Module
by David Walton (No Comments )

London, UK, 10th October 2017 – Bestoutcome, the leading project, portfolio management (PPM) software company, is pleased to announce the launch of its new 100% cloud based PPM tool, PM3 Cloud.

Bestoutcome launched PM3 in 2007 and since then there have been approximately 3 releases per year. The new product PM3 Cloud is one of the most significant upgrades that Bestoutcome has made to their flagship product. This upgrade includes the following enhancements:
100% Cloud based with no software installed on the desktop
A refresh of the User Interface
De-cluttering of screens
An Executive Portal
Optimised for tablets including IPads;
– An updated Benefits module that includes:
– The ability to flag benefits as 'disbenefits'
– Assign a probability to a benefit
– Categorise a benefit as non-recurring or recurring
– Assign a 'global benefit' that projects and programmes can support
– Determine whether benefits or cost savings are being 'double-counted'
– The ability for executives to view project, programme and portfolio benefits using our IPad executive portal
David Walton, Managing Director of Bestoutcome says: "This is probably our most significant product launch since we first released PM3. We have listened to our clients and delivered a really intuitive, clean and simple user interface. We have engaged user experience experts who have really helped with developing the new clean interface. We are particularly excited about the Executive Portal which can be used via a tablet like an IPad. This will give executives real-time access to their projects, programmes and portfolios."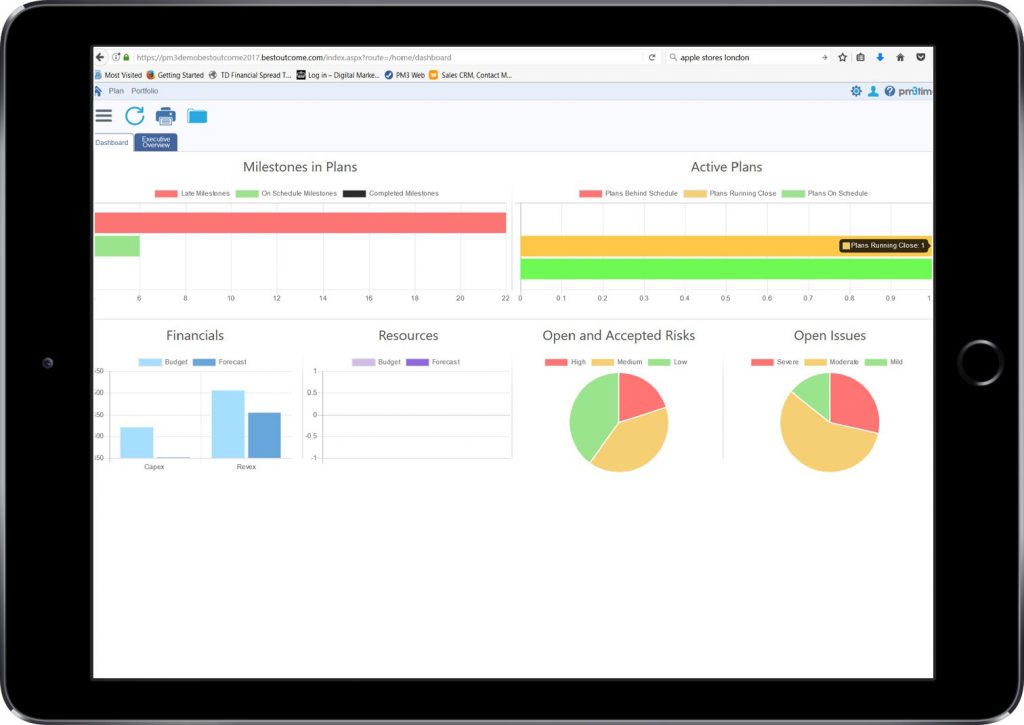 Executive Portal PM3Cloud
About Bestoutcome
Bestoutcome specialises in Project and Portfolio Management (PPM) software and services, always focusing on the overall outcome to ensure successful business change. Our approach is based on delivering specific business outcomes within a uniquely transparent, risk managed and open framework. This is achieved by using highly experienced consultants combined with PM3, a client configurable Programme Management Office (PMO) software and reporting toolset, allied to an outcome-driven project management (ODPM) methodology.  Bestoutcome's starting point is always the client's ultimate business goal and we never lose sight of this. Bestoutcome's timesheet software, PM3time is used in many private and public sector organisations for automating timesheet capture and reporting processes.  Bestoutcome has completed a significant range of change management assignments for large organisations operating in sectors such as Finance, Manufacturing, Energy, Retail, Public Sector, Insurance and Hospitality.  Bestoutcome is ISO27001 Security Certified and our PM3 product range is available to Public Sector clients via the UK Government Digital Market Place Catalogue.
Media Contact: Judi Beater. Judi.Beater@bestoutcome.com
Discover PM3
'The PMO Tool designed by Practitioners for Practitioners'