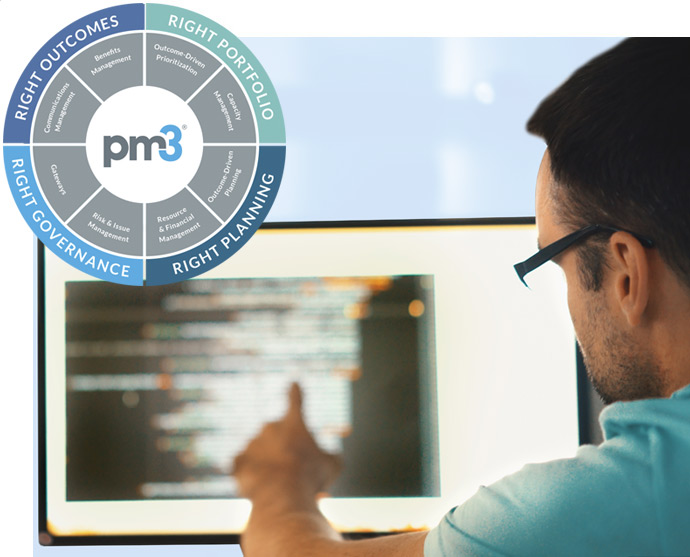 What our IT clients say
"We felt that bestoutcome PM3 provided many of the features and functionality of the extensive tools sets in a much more affordable but scalable system. PM3 has established a a rhythm or a drumbeat on how we report. The combination of outcome driven project management and pm3 has directly improved our productivity."

– Roger Stickland, IT Director, university of Surrey
"PM3 provided me with all the benefits that I needed in terms of managing resources, finances, and progress. PM3 was also priced appropriately. Our CIO can see all projects in all our portfolios. It has meant that we are closing more projects in a timely fashion."

– Gordon Maxwell, head of IT Projects.
IT PPM software built by practitioners for practitioners
PM3 and PM3time are easy-to-use cloud based IT PPM tools that can be used to manage projects and programmes, from simple timekeeping to large scale transformation programmes.
IT departments can use PM3 to:
Plan projects using PM3's milestone and GANTT planning tools
Manage resources effectively
Control project spend using stage gates
Accurately record project time and costs using pm3time
Create portfolios where projects can be in multiple portfolios
Generate high quality dashboard and reports
Keep projects on track using automatic email alerts when milestones or actions slip
Escalate milestones, risks and issues to the programme level
Click on the thumbnails above to see a PM3 dashboard and a gantt chart
Our IT clients realise many benefits from using PM3 and these include:
Clear Pipeline of initiatives

Improved utilisation of resources

Automatic report generation
3 reasons why PM3 will help you deliver better projects and programmes
Milestone planning module focuses on the overall outcome of the project and the intermediary milestones needed to deliver the holistic change.
Governance modules identify areas of concern on your project that can be rectified so your project or programme is brought back on track
Comprehensive reporting engine allows the project team to focus on the delivery of the project rather than producing endless reports.