PM3 has been used in Whitbread for circa. 10 years. This case study is based on an interview with Lynne Clark, PMO Portfolio Reporting Manager at Whitbread.
What tools were in place before PM3?
Whitbread were using a simple web reporting tool and a combination of spreadsheets and MS Project before implementing PM3. It was a basic system that required us to use spreadsheets for milestone planning. All project information was in different systems and PM3 allowed Whitbread to have the project data in one place.
How did you succeed in making PM3 stick?
It did take a while to migrate from the previous system, as people are generally apprehensive about change. To gain buy-in and overcome any change hurdles, we firstly onboarded the PMO team with extensive training provided by Bestoutcome.
The Project Managers were then invited to a series of PM3 overview sessions to get them more familiar with the tool and what was expected of them (i.e., which parts of the tool we would initially be using and where they were required to make updates).
PM3 is an intuitive PPM tool, and this helped with the onboarding process greatly.
As part of the onboarding process, weekly emails were sent to the Project Managers to remind them that they had to update PM3 every week.
PM3 has a weekly report showing which projects have not been updated, which was very useful in chasing up the Project Managers who had not updated the relevant parts of PM3.
If a Project Manager had not updated their project for two consecutive weeks, we escalated this issue to their line manager or the programme manager to ensure the new process was starting to embed.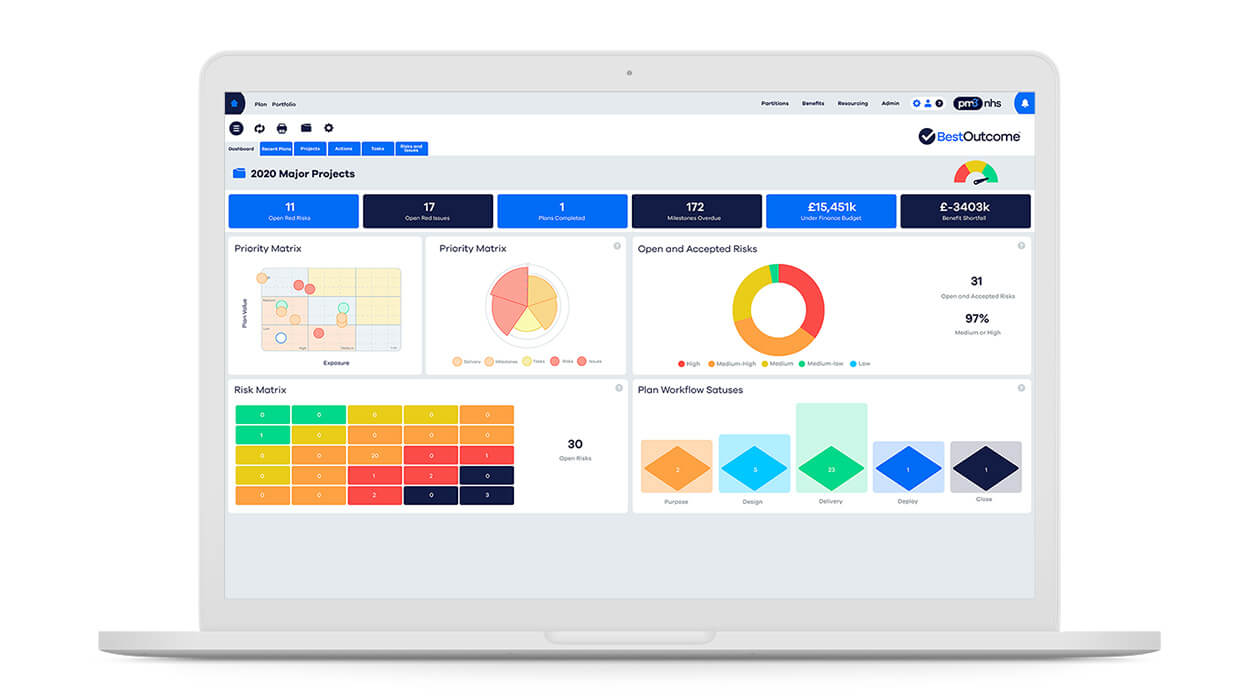 When we first implemented PM3 we didn't try and use all the PM3 modules.
Initially, we focussed on the stage gates, governance reports and traffic light reports. What helped our implementation was that PM3 comes with an initial configuration that can be tailored.
We started implementing PM3 with Bestoutcome's vanilla configuration and later we tweaked this. It is easy to configure PM3, so we did this ourselves without needing to go to Bestoutcome.
Currently, we have PMO Managers supporting each of our major programmes and they complete the majority of the on-boarding.
They take new joiners through PM3, show them how to use it and what's expected of them. They also advise on the cadence of reporting and what's expected at each stage gate.
It doesn't take a huge amount of time for the Project Managers to complete their reports as PM3 is very intuitive.
We ask them to manage their risks and issues in PM3 which is very straight forward, plus we ask for a progress update with RAG Status.
We're also asking them to track their high-level milestones and their dependencies in PM3.
Our stage gates are managed by the PMO Managers, and we use the available functionality that allows only administrators to close the stage gate milestones.
This avoids any issues with governance if the Project Managers close the wrong stage gates .
How do Whitbread report using PM3?
There are out-of-the-box reports that are provided in PM3. These reports are used for the more general reporting to our Delivery Managers and stakeholders. Automated reports will be sent from PM3 on a weekly basis.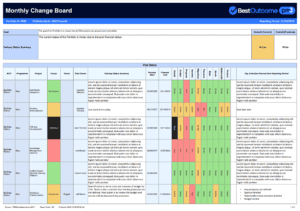 For our summary level and portfolio reporting we use PM3 Datamart – now called PM3BI. This allows us to have an integration to the back end of PM3 and query the data. We can then produce reports in Excel using the data provided.
These Excel / BI linked reports are all created; so, it's just a case of refreshing the data to ensure that the latest updates are pulling through from PM3.
Once this is done, we generate our reporting suite which includes: a risks / issues dashboard with a variety of different reports built underneath, and a dependency dashboard that allows users to drill down into the detail of those dependencies.
What projects are you using PM3 to manage?
Every project that is in Change Delivery is built into PM3, so we have an end-to-end view of what is in our annual IT work plan. The functionality in PM3 allows us to successfully manage the delivery of all these projects.
What is the biggest benefit of using PM3?
PM3 allows us to have one central source of our data. Before we used PM3, project records were in a number of different places, and we now have one source of the truth. We can extract data or report on projects from one central place. We use a combination of the inbuilt PM3 reports and PM3BI to provide the integration to Excel.
How has Bestoutcome supported you?
Whenever we have had any issues, the Bestoutcome team has been very responsive in resolving these. We have regular account meetings with Bestoutcome which is beneficial, and these include details on any future releases for PM3 providing new/revised functionality.
One of the most useful things about PM3 from a PMO perspective, is that we have the ability to configure the application ourselves, so we don't need to keep requesting changes from Bestoutcome to do this.